What's New
at the Newtown Chamber Orchestra
FREE Family Concert:

Prokofiev's
"Peter And The Wolf"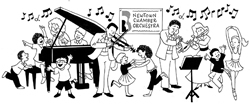 Learn More About the Kids Connect Classics Concert
The Kids Connect To The Classics Concert is funded in part by:
Charity Services Centers, PA; The Kinder Morgan Foundation; The Office of the Bucks County Commissioners; Visit Bucks County; and all the donors and advertisers who support the Newtown Chamber Orchestra


We Need Your Support
Please consider supporting the arts in your community. This season, the Newtown Chamber Orchestra will perform again 3 concerts. Our musicians are paid, professional players. Keeping the music alive in Newtown is a joint effort of volunteers and members of the community which supports us with donations, ad placements and ticket purchases. Thank you, every amount, large or small counts.