Press Releases
Newtown Chamber Orchestra pays tribute to late composer Samuel Bellardo
By Hunterdon County Democrat on May 17, 2013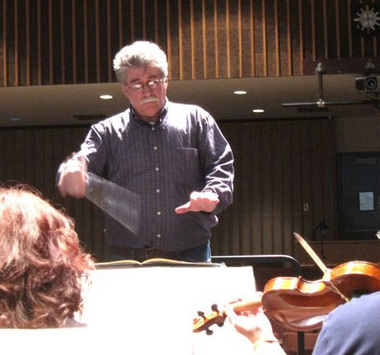 Russell Hoffmann, Music Director Newtown Chamber Orchestra

A composer's dream will be realized and a legacy of love fulfilled on Saturday, June 1, when the Newtown Chamber Orchestra, under the direction of Dr. Russell Hoffmann, will perform the world premiere performance of "Missa de Profunctis" a requiem. While other concerts may be designed to entertain you, the requiem will surely move your spirit.
Dr. Russell W. Hoffmann has lived in Hunterdon County or close by his whole life. Born in Flemington, he started playing the violin at age 8 at the Summer Music School with John Krauss and private instruction with Robert Kelber. His parents went to Flemington High School and he graduated from Hunterdon Central High School Class of 1972. His youngest of six daughters is graduating this year from HCRHS. He currently teaches 105 string players full-time at the John Witherspoon Middle School in Princeton and teaches part time at The Hunterdon Academy of the Arts in Flemington, plus he is an adjunct faculty member with Bucks County Community College.
Along with his extensive work as a violinist with orchestras throughout New Jersey, New York and Pennsylvania, he also served as music director for Concert Opera of Philadelphia, associate conductor with the Greater Trenton Symphony Orchestra, and guest conductor for the Delaware Valley Philharmonic and Hunterdon Symphony Orchestras. Twenty-three years ago he started the Newtown Chamber Orchestra with colleagues Dr. Milton Schwartz and Craig Smith. The orchestra's mission is to educate audiences about classical and modern chamber music, promote new chamber works by contemporary composers, and encourage young musicians of the community.
The all-professional orchestra premieres commissioned works, hosts an annual Young Musicians Competition, and features solo performances by local as well as internationally known artists. Newtown Chamber Orchestra relies on grants, sponsorships, subscribers, patrons, and contributions from the business community. For more information, to make a donation or to purchase tickets, visit newtownchamberorchestra.org.
Dr. Samuel Bellardo composed the requiem to honor the memory of his great-nephew Joseph L. Bellardo III, who died tragically in an automobile accident in Trenton on May 17, 2003. Dr. Bellardo was a graduate of Julliard and professor of music for more than 35 years at Kutztown University and later at Bucks County Community College and Westminster Choir College. Following Joseph's death, he approached Joseph's parents, Joseph Jr. and Agnes with his vision to compose the Requiem. Driven by his love for the arts and his family, he worked for the next four years, completing the composition in January 2007.
In February, two weeks after the completion of the Requiem, Dr. Bellardo was on his way to deliver the manuscript to a friend and colleague in Lambertville and stopped to mail a recommendation letter in Washington Crossing, Pa. He died that night from injuries sustained when he was out of his automobile and it slipped into gear. The Requiem was found on the front seat of his car. Following Dr. Bellardo's death, his family and friends have been committed to fulfilling his dream to bring the requiem to performance and have raised the necessary funds to complete this labor of love.
All net proceeds for the concert will be equally shared between the Newtown Chamber Orchestra and the Lewis & Elizabeth Bellardo Scholarship Fund at the Julliard School of Music In New York City in memory of both Dr. Samuel Bellardo and Joseph L Bellardo III.
The event takes place on Saturday, June 1, at 7:30 p.m. at Pennsbury High School West Campus – Keller Hall, 608 South Olds Blvd., Fairless Hills, Pa.
Tickets for the performance can be purchased online at newtownchamberorchestra.org and also will be available at the door on the night of the performance.
For further information, email information@newtownchamberorchestra.org or dgmusica@comcast.net or call 267-291-4626.