Press Releases
Newtown Chamber Orchestra
www.newtownchamberorchestra.org  •  267-291-4626  •  P.O. Box 716  •  Newtown, PA 18940
For Immediate Release                                                              Media Contact: Carolyn Naaman
Carolyn@sirspeedynewtown.com
Photography courtesy of Photos by Lynn
On Saturday, June 1, 2013, a composer's dream was realized and a legacy of love fulfilled when the Newtown Chamber Orchestra (NCO) performed the World Premiere of Missa De Profunctis, a requiem composed by Dr. Samuel Bellardo in loving memory of his great-nephew Joseph L. Bellardo III.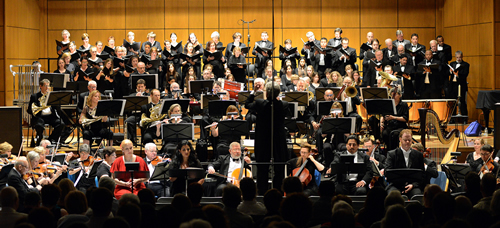 The extraordinary musical ensemble of over one hundred musicians, singers and soloists assembled and directed by Dr. Russell Hoffmann, Musical Director / Conductor of the NCO, played to a full house of music lovers, friends and family of Samuel  Bellardo and Joseph Bellardo who came to celebrate their memory and to share this historic, once-in-a lifetime event.
James D. Moyer, the highly regarded Chorus Master and Randy White, the accomplished Youth Chorus Master assisted Dr. Hoffmann.  Also featured, were youth soprano soloists, Mason Cano and Cole Vonvorys and four international soloists, Susan Whitenack, Soprano, Cheri Rose Katz, Dramatic Mezzo Soprano, Edgar Jarmillo, Tenor, and Matthew Curran, Bass.
| | |
| --- | --- |
| | |
| Youth Chorus | Russel Hoffmann with Soloists |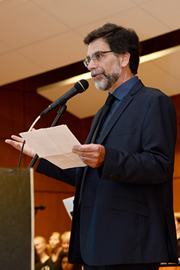 Jeff Baumeister
Jeff Baumeister, a former student of Dr. Bellardo at Bucks County Community College addressed the audience. "I had the great privilege like so many others to study music theory with Dr. Bellardo.  He was a very sincere man who spoke from his heart.  Every lesson with Dr. Bellardo was a master class.  I remember his hands as he played.  Very calm, controlled, powerful and graceful.  He was a remarkable man, composer, pianist and an extraordinary teacher."
Dr. Bellardo used vigorous rhythms, sublime melodies and dramatic contrasts to express his powerful emotions. The thundering of the Dies Irae, the brass instruments and the multitude of voices raised to the heavens combined to create a powerful musical experience. The work was immediately hailed as a masterpiece and was compared to Verdi's Requiem.  As evidenced by their comments, the family experienced a sense of peace and their spirits were lifted by the beauty of this requiem.
Sue Torelli, a singer in the chorus, was inspired by the music: "The music is gorgeous, inspiring, amazing...The children's choir along with the orchestra with so many instruments and so many different sounds and our opportunity to sing these age old and profound words, these all made for a very moving experience."
Another singer, Maria Kathleen Barnet, shared her feelings:"I never knew Dr. Bellardo, but I was very moved by the emotion at the concert. I also loved the work itself! It was a wonderful and very inspiring experience!"
Members of the Bellardo family were profoundly moved. It had been ten years since Joey (Joseph L. Bellardo III) died in a car accident and the music offered them some solace. "Joe and I were both moved by the performance" said Aggie Bellardo, Joey's mother. "We felt a presence of peace. The music was beautiful and we thank all who worked so effortlessly, from the musicians, the choir, the soloists and especially Russell and Deborah for their devotion to accomplishing this world premier.Uncle Samuel and Joseph are smiling!!!"
Lewis Bellardo , Sam's brother and Joey's uncle, expressed his gratitude to the Newtown Chamber Orchestra: "I feel a great sense of gratitude to Russell, Deborah, Phyllis and Milton, Rob, and to Carolyn for making this such a profound and thrilling experience for all that attended. I also am grateful to the wonderful musicians, choruses, and soloists for their intensity and commitment to the music. I will always remember this wonderful experience."
"This was a deeply moving experience for me. As Aggie wrote, it brought a sense of peace. It brought also an opportunity for healing, and to bind our family together in love." Added Lewis.
Lewis' wife,  Julietta, provided the following thoughts: "Reflecting on the Missa de Profunctis Requiem, I can still feel the peace and the glory. The work was magnificent, but more than that, it is timeless. It is now apparent that Samuel, in writing the piece in memory of his great nephew, Joseph Bellardo, III, also wrote it as a monumental work for many generations to share and enjoy. The music emphasizes Samuel's strong belief in God, heaven, and how important each day of our journey is to arriving in Paradise."
Dr. Russell Hoffmann, who conducted the concert and perhaps spent the most time learning the score and thinking about the music, offered his perspective. "It is very a compelling work from every perspective.  It is monumental with tremendous significance"
"The work is so well crafted, gripping with intensity and passion exploring  virtually every human emotion, including turmoil and anguish, associated with the passing of not just another human being but that of a family member so loved by his family."
Dr. Hoffmann concluded: "The Missa de Profunctis is not only a great tribute to Joseph Bellardo III and his family, but a masterpiece withstanding all time. My hope is that anyone who was not able to attend the world premiere performance presented by Newtown Chamber Orchestra will be able to experience this work at a later time whenever future performances will be announced whether in this country or around the world."